Home » Music » Toca introduces 2 ne...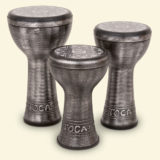 Toca introduces 2 new Jamal doumbeks at 2012 NAMM show
Due to the success of its Jamal Signature Doumbeks, Toca is now introducing the wildly popular drum in two larger sizes. In addition to the existing version, the drum is now available in a medium size (9-1/2" x 18") and a large size (11" x 20-3/4").
Jamal Signature Doumbeks are designed in collaboration with Doumbek Master Jamal Mohamed, who said, "I couldn't be more pleased with the addition of these two new drums. They give the player a wide range of sound, providing a broad canvas on which to create music."
The precision-balanced, durable fiberglass shells produce deep Doums and high Teks when played. The drums also feature pre-stretched synthetic heads, protective rubber bottoms and a hand painted antique silver finish.
Check them out on the TOCA website.
TOCA Percussion at the 2012 NAMM Show