Home » Music » The JAMAL doumbek fe...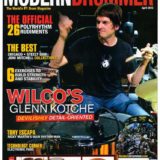 The JAMAL doumbek featured on cover of Modern Drummer
The #1 drum magazine, Modern Drummer, featured the JAMAL doumbek on the cover of their April issue. An article with a great review of the drum was also included. To learn more about the JAMAL doumbek, which has just been released in two new sizes, check them out on the TOCA website.